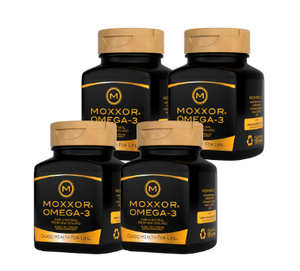 GMO
Free Toxin
Free Gluten
Free Mercury
Free Chemical
Free Protein
Free All
Natural
IMMUNITY
Supports Immune System
JOINT HEALTH
Supports Joint Movement
BRAIN
Supports Brain Health
When you start your day with MOXXOR, you give your body a pure, natural source of Omega-3 to improve your overall health. Begin every day with MOXXOR. Your body will thank you!
THE PREMIUM OMEGA-3
TO POWERFULLY BOOST YOUR HEALTH
---
HIGH CONCENTRATION
MOXXOR contains highly-concentrated Omega-3, Vitamin-E, and potent Antioxidants sourced from world-famous green-lipped mussels, kiwifruit, and sauvignon blanc grape seeds.
These powerful ingredients give you a full range of essential fatty acids including EPA, DHA and ETA.
---
PURE NATURAL INGREDIENTS
100% Natural Green Lipped Mussel Oil
150x More Potent Than the Best Fish Oil Supplement
START TODAY
---
MOXXOR begins working to improve your health immediately because omega-3 fatty acids play an extremely important role in the human diet and physiology.
IS QUALITY IMPORTANT TO YOU?
---
OUR FACTORY & OUR TECHNOLOGY
Unlike other brands of green-lipped mussel supplements, we produce our green-lipped mussel oil in our own factory in New Zealand with high-tech specialized equipment to extract the delicate and potent omega-3 oil, retaining its health benefits for you.
The MOXXOR® proprietary cold extraction process ensures the effectiveness and quality of the natural state of the Omega-3 oil providing a superior product. Other companies apply heat which can greatly decrease the effectiveness of their product.
---
STRICTEST QUALITY STANDARDS IN THE WORLD
The New Zealand greenshell mussel industry operates within some of the strictest quality standards in the world. Both the mussels and seawater around the farms are tested for biotoxins, bacteria, and heavy metals.

The water quality is constantly monitored with tests carried out to the standards set by the U.S Food and Drug Administration, European Union, and NZ Food Safety Authority. The standards are in place to meet the increasing global demand for safe and healthy seafood products.
The Resource Management Act 1991 and Fisheries Act 1996 have been put in place by the New Zealand government to mitigate the environmental effects of aquaculture in New Zealand.

New Zealand's high aquaculture standards have been recognized by the International Conservation Organisation Blue Ocean Institute, which ranked New Zealand greenshell mussels as one of the top two 'eco-friendly seafoods' in the world.
---
YOU DESERVE A HIGH-QUALITY PRODUCT THAT DELIVERS RESULTS!
Water Quality
✔ MOXXOR
Contains Green-Lipped Mussel Oil sourced from the pristine waters of New Zealand
✘ FISH OIL
Various sources with unknown water quality
Sustainability
✔ MOXXOR
Sustainable & eco-friendly sourcing
✘ FISH OIL
Reduces fish supply in oceans, creating a negative impact on marine ecosystems
Quality Control
✔ MOXXOR
In-house specialized oil extraction production facility for impeccable quality control
✘ FISH OIL
Typically production is outsourced to production facilities with questionable quality control
Strength
✔ MOXXOR
Over 150x stronger than fish oil
✘ FISH OIL
Strength can vary, often diluted with non-beneficial ingredients
Dr. Scott Graham - Orthopedic Surgeon
Dr. Graham was skeptical when one of his patients introduced him to MOXXOR. But, after looking at the research, he was happily surprised

at all the medical journal articles that supported the benefits of Green-lipped Mussel Oil.



He also noticed how much it helped him with a

reduction in muscle soreness and faster recover.



He also explains why MOXXOR is far more

effective and provides more health benefits than other Omega-3 Supplements.
MOXXOR

has helped

thousands of loyal customers

over the past 10 years.

Many have said they will

never stop taking MOXXOR

because of how much it has helped them with

pain, insomnia, and other health issues.



Several doctors explain why MOXXOR works so well to

reduce inflammation and pain.
Why Does YOUR Body Need Omega-3?
Dr. Don Mills explains why omega-3 is

so important for optimal health

and how MOXXOR helped him

overcome insomnia

.

He also noticed an

increase in mental clarity and energy

and the ability to

multitask

.

He has recommended MOXXOR to many of his pain management patients who have been able to

stop taking prescription pain medicine because MOXXOR

eliminated their

muscle, hip, knee, spine, neck, and multiple joint pain

.
ABSOLUTELY ZERO
Soy, Nuts, Corn, Dairy, Gluten, Wheat, Yeast, Shellfish Protein
NO HARMFUL
GMOs, Toxins, Fillers, Mercury, Chemicals, Excipients, Preservatives
REAL SUPERFOOD INGREDIENTS
Green Lipped Mussel
Green-lipped mussels contain vital nutrients essential for the health of every cell in the body
Sauvignon Blanc
Grape Seed
Cold-pressed sauvignon blanc grape seed oil provides antioxidants including Lutein, Zeaxanthin, Astaxanthin, & Carotenoids
Kiwi Fruit Seed
Cold-pressed kiwi seed oil supplies a full-spectrum of Natural Vitamin E, Oleic Acid, Folate, & Vitamin K
MOXXOR OMEGA-3 has a full-spectrum of all known bioavailable forms of omega-3 plus other vital polyunsaturated fatty acids
OUR CUSTOMERS LOVE MOXXOR OMEGA-3
SMALL SOFT GEL CAPS
Easy to Swallow 150 mg Small Gel Caps Manufactured in a High-quality GMP Certified Factory in New Zealand



Synergistic formula of three pure and natural

New Zealand super foods

delivers a powerful combination of

Omega-3, Vitamin E & Antioxidants all in one tiny capsule
ORDER NOW
Free shipping within usa
90 days money back guarantee